Treeleafhomestays Bhowali
3 BHK lux villa















Welcome to Treeleaf Homestays we are changeing the landscape of travel by creating meaningful experiences with the feeling of home at mind. What started in 2017 as Homestay experiment has now grown into something more. We are creating a series of luxury homestays, Hotels and Brands that offer more than just great value for money. Come experience the hills of Nainital, Uttarakhand with us in our first fully operation designer cottage space at treeleaf homestays. 

3 BHK full villa in Bhowali Nainital fast WiFi
Tree Leaf Cottage















3 BHK full villa in Bhowali Nainital fast WiFi
Tree Leaf Cottage
About this space
Strategically located just 15 Km outside the busy streets of Nainital in a town called Bhawali. Treeleaf villa is one of the most luxurious properties in the area and entire home available for the family's which like to travel in style 

Ideal for groups of 5 to 8 people this is a lovely choice of stay for those who want to make the best of great stays near & around Nainital. The designer home is set wT 50mbps broadband a smart TV making longer stays very relaxed & comfortable
The space
This listing entitles you rent you the entire villa which is spread over 2 floors and has 3 rooms in total 

Upstairs is the master suite which is very large studio apartment it has its own TV and lounge as well - the ground floor flat is cosy it has small rooms and small bathrooms which makes space for a large living space and kitchen where we have a second TV for kids 

The villa is spaced out placed 1 km outside bhawali town itself it is a very secure environment for those looking to escape the density of new Delhi

We have 2 TV one with Netflix and you-tube on it and the other with plain old cable 

Wifi is now running on a 50 MBPS line and there is a back up WiFi which is powered by simcards in case of emergency - Mobile reception at the house will give you full bars with JIO and Airtel networks as well

There is a chess board for kids and you can also request some weights for exercising if you feel the need to exercise 

and both kitchens come well equipped with microwaves and blenders as well

The kitchen comes fully equipped with essential spices, oil, butter, tea, and some basic dals and Utensils- you have access to our caretakers as well. Who will help make your stay more comfortable - we provide breakfast in the price you book and extra meals can be arranged at a price of 1000 for Veg and 1500 for non veg meals presuming your a party of 6 people

Key distances

Nanital 17 km 
IHeart cafe - 4 km
Mukteswar 45 km 
Bhimtal 8 km 
Sat Tal -4 km 
Kainchidham 3 km 
Ghorakhal temple 2 km
Guest access
The space has its own kitchen and large living space guests get full access to the house which includes 3 rooms on 2 floors 2 kitchens and roof access as well.

Drivers can stay with our staff
Other things to note
Our standard prices are set for 6 Guests. Up to 2 extra guests can be added at 500 Rs per night during checkout we will provide floor mattresses for 
Prices shown include breakfast 

We have a cleaning lady who comes from outside and the caretaker who is a local 

We have 3 CCTV cameras around the property and our caretaker lives in the lower floor of the house . He will maintain distance unless and unless asked to interact with guests. 

Guests can also get help with cooking and cleaning we have a local chef who can be used if needed at en extra of 2000 Rs per meal

We ask guests not to play loud music at the villa after 10 pm as the sound just echos in the hills and this area is in a small village where people sleep early
Cancellation Policy
Guests can cancel a booking for a 90 % refund up to 7 days before check in date as per mindmytravels global policy
Guests can cancel a booking for upto 75% of the total value up to 72  hours before check in
Guest can cancel a booking for up 50% of total value upto 24 hours before checkIN
On The date cancellations will subject to decision of the management 
If you are canceling due to covid lock down or travel restrictions we will review the evidence and provide upto 90% of the refund where applicable 
Book now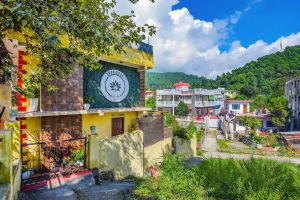 2BHK apartment luxury villa Nainital with fast WiFi.
Tree Leaf Cottage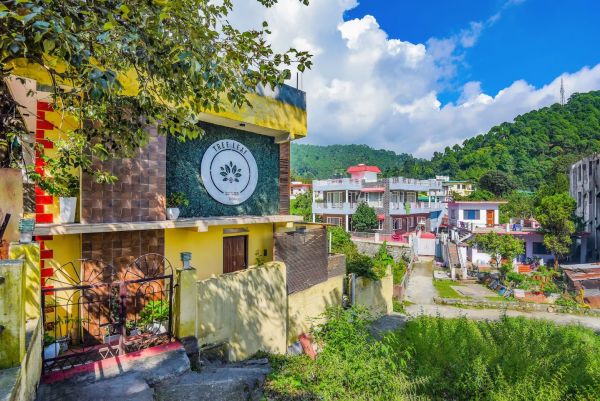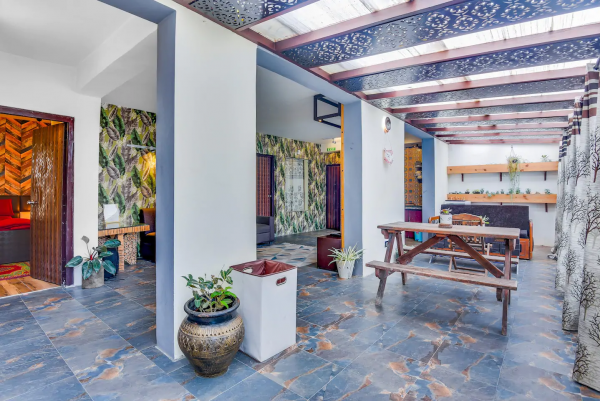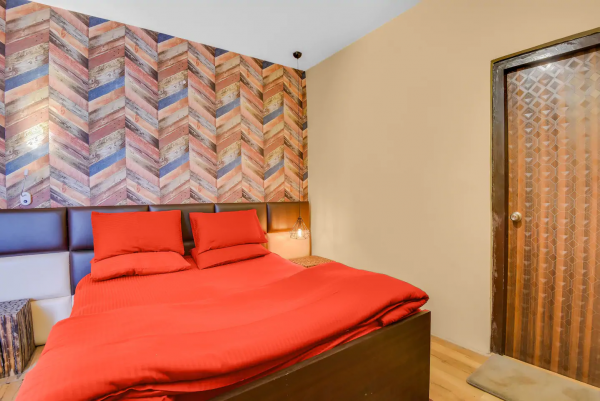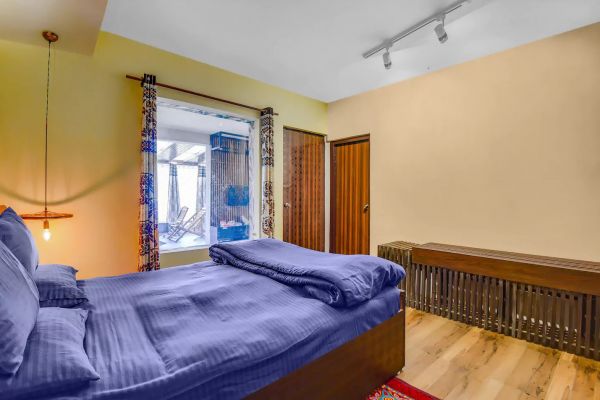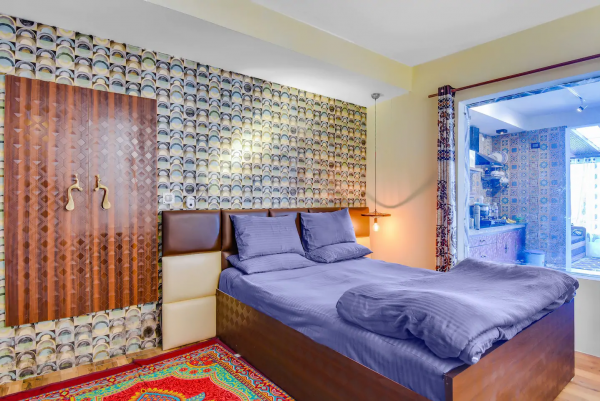 2BHK apartment luxury villa Nainital with fast WiFi.
Tree Leaf Cottage
About this space
Strategically located just 15 Km outside the busy streets of Nainital in a town called Bhawali. Treeleaf villa is one of the most luxurious properties in the area and entire home available for the family's which like to travel in style 

Ideal for groups of 5 to 8 people this is a lovely choice of stay for those who want to make the best of great stays near & around Nainital. The designer home is set wT 50mbps broadband a smart TV making longer stays very relaxed & comfortable
The space
This listing entitles you rent you the entire villa which is spread over 2 floors and has 3 rooms in total 

Upstairs is the master suite which is very large studio apartment it has its own TV and lounge as well - the ground floor flat is cosy it has small rooms and small bathrooms which makes space for a large living space and kitchen where we have a second TV for kids 

The villa is spaced out placed 1 km outside bhawali town itself it is a very secure environment for those looking to escape the density of new Delhi

We have 2 TV one with Netflix and you-tube on it and the other with plain old cable 

Wifi is now running on a 50 MBPS line and there is a back up WiFi which is powered by simcards in case of emergency - Mobile reception at the house will give you full bars with JIO and Airtel networks as well

There is a chess board for kids and you can also request some weights for exercising if you feel the need to exercise 

and both kitchens come well equipped with microwaves and blenders as well

The kitchen comes fully equipped with essential spices, oil, butter, tea, and some basic dals and Utensils- you have access to our caretakers as well. Who will help make your stay more comfortable - we provide breakfast in the price you book and extra meals can be arranged at a price of 1000 for Veg and 1500 for non veg meals presuming your a party of 6 people

Key distances

Nanital 17 km 
IHeart cafe - 4 km
Mukteswar 45 km 
Bhimtal 8 km 
Sat Tal -4 km 
Kainchidham 3 km 
Ghorakhal temple 2 km
Guest access
The space has its own kitchen and large living space guests get full access to the house which includes 3 rooms on 2 floors 2 kitchens and roof access as well.

Drivers can stay with our staff
Other things to note
Our standard prices are set for 6 Guests. Up to 2 extra guests can be added at 500 Rs per night during checkout we will provide floor mattresses for 
Prices shown include breakfast 

We have a cleaning lady who comes from outside and the caretaker who is a local 

We have 3 CCTV cameras around the property and our caretaker lives in the lower floor of the house . He will maintain distance unless and unless asked to interact with guests. 

Guests can also get help with cooking and cleaning we have a local chef who can be used if needed at en extra of 2000 Rs per meal

We ask guests not to play loud music at the villa after 10 pm as the sound just echos in the hills and this area is in a small village where people sleep early
Cancellation Policy
Guests can cancel a booking for a 90 % refund up to 7 days before check in date as per mindmytravels global policy
Guests can cancel a booking for upto 75% of the total value up to 72  hours before check in
Guest can cancel a booking for up 50% of total value upto 24 hours before checkIN
On The date cancellations will subject to decision of the management 
If you are canceling due to covid lock down or travel restrictions we will review the evidence and provide upto 90% of the refund where applicable 
Book now

1BHK apartment luxury villa
Tree Leaf Cottage



1BHK apartment luxury villa
Tree Leaf Cottage
About this space
Strategically located just 15 Km outside the busy streets of Nainital in a town called Bhawali. Treeleaf villa is one of the most luxurious properties in the area and entire home available for the family's which like to travel in style 

Ideal for groups of 5 to 8 people this is a lovely choice of stay for those who want to make the best of great stays near & around Nainital. The designer home is set wT 50mbps broadband a smart TV making longer stays very relaxed & comfortable
The space
This listing entitles you rent you the entire villa which is spread over 2 floors and has 3 rooms in total 

Upstairs is the master suite which is very large studio apartment it has its own TV and lounge as well - the ground floor flat is cosy it has small rooms and small bathrooms which makes space for a large living space and kitchen where we have a second TV for kids 

The villa is spaced out placed 1 km outside bhawali town itself it is a very secure environment for those looking to escape the density of new Delhi

We have 2 TV one with Netflix and you-tube on it and the other with plain old cable 

Wifi is now running on a 50 MBPS line and there is a back up WiFi which is powered by simcards in case of emergency - Mobile reception at the house will give you full bars with JIO and Airtel networks as well

There is a chess board for kids and you can also request some weights for exercising if you feel the need to exercise 

and both kitchens come well equipped with microwaves and blenders as well

The kitchen comes fully equipped with essential spices, oil, butter, tea, and some basic dals and Utensils- you have access to our caretakers as well. Who will help make your stay more comfortable - we provide breakfast in the price you book and extra meals can be arranged at a price of 1000 for Veg and 1500 for non veg meals presuming your a party of 6 people

Key distances

Nanital 17 km 
IHeart cafe - 4 km
Mukteswar 45 km 
Bhimtal 8 km 
Sat Tal -4 km 
Kainchidham 3 km 
Ghorakhal temple 2 km
Guest access
The space has its own kitchen and large living space guests get full access to the house which includes 3 rooms on 2 floors 2 kitchens and roof access as well.

Drivers can stay with our staff
Other things to note
Our standard prices are set for 6 Guests. Up to 2 extra guests can be added at 500 Rs per night during checkout we will provide floor mattresses for 
Prices shown include breakfast 

We have a cleaning lady who comes from outside and the caretaker who is a local 

We have 3 CCTV cameras around the property and our caretaker lives in the lower floor of the house . He will maintain distance unless and unless asked to interact with guests. 

Guests can also get help with cooking and cleaning we have a local chef who can be used if needed at en extra of 2000 Rs per meal

We ask guests not to play loud music at the villa after 10 pm as the sound just echos in the hills and this area is in a small village where people sleep early
Cancellation Policy
Guests can cancel a booking for a 90 % refund up to 7 days before check in date as per mindmytravels global policy
Guests can cancel a booking for upto 75% of the total value up to 72  hours before check in
Guest can cancel a booking for up 50% of total value upto 24 hours before checkIN
On The date cancellations will subject to decision of the management 
If you are canceling due to covid lock down or travel restrictions we will review the evidence and provide upto 90% of the refund where applicable 
Book now